The roof of your commercial building serves many functions. It protects your building from the elements, keeps your staff and customers warm and dry, and offers a good first impression to the outside world. 
Considering everything your roof does for you, it's important to keep it in good condition.
Every roof experiences wear and tear over time, and will eventually need to be repaired or replaced. When that happens, you need a contractor you can trust who will do quality work to ensure your roof stands the test of time. 
Read on to learn why the team at Hoyt Exteriors is the best in the business, as well as a few signs to watch for that you might need a commercial roofing install or repair in the near future.
What Makes Hoyt Exteriors Different?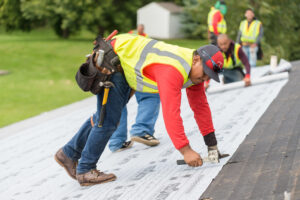 At Hoyt Exteriors, we love the work we do and we take pride in the quality workmanship and service we offer to all our clients. When you work with the Hoyt team, here's what you can expect:
Expert Staff
The experts at Hoyt are masters of their respective crafts…and then some! We work to personally train and test each team member, holding them to the highest caliber of industry standards.
You've put a lot of work into building your business, and you should expect nothing less from our team of commercial roofing experts. We offer fast and efficient turnaround on every job, and we get the job done right the first time. Our speed and expertise will keep your building in great shape so you can focus on running your business.
Custom Plans To Suit Your Needs
At Hoyt, we make it our business to help you stay a step ahead of the competition. Every project is unique, so we take the time to understand your goals, then create a custom plan to meet your needs. And when you work with our team, you'll experience no hassle, no hidden costs, and no wasted time.
Focus on Attention to Detail, Quality, and Integrity
Have you ever had roofing work done…then had to have it re-done not long after? Unfortunately, many businesses can relate to this lack of quality and attention to detail from the contractors they've worked with. That's part of the reason why we're in this business: to offer an attention to detail you won't find elsewhere.
At Hoyt, we adhere to a high level of quality and integrity in our work. We genuinely care about every customer and how our work impacts their business.
Ultimately, we will never sacrifice quality for profit. If we can't do a job right, we won't do it at all. 
Embracing Technology
Whether it's the newest app or a drone to measure and inspect a home or property, we have always embraced the newest technology. 
For example, the drone equipment we have has helped us record and get a baseline condition for our clients' roofs so we can project future replacement or estimate recent storm damage loss. And our new telehandler helps us reduce the physical work of moving pallets of material around on the job site (along with a variety of other uses). 
Our industry is always changing and innovating. We work to stay on the cutting edge to deliver the best outcome for every project we take on.
5 Signs Your Commercial Roof Needs To Be Replaced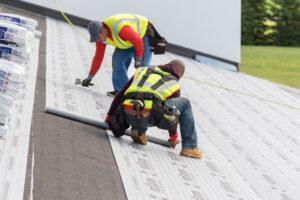 No roof lasts forever—at some point, every roof will need to be replaced. Here are a few signs that may indicate it's time for a new commercial roofing install.
1. Leaks
If you wait too long to replace a leaking roof, you could end up with serious problems. Roof leaks can cause issues like mold and mildew growth, wood rot, and structural damage. And unfortunately, water leaks can often go unnoticed, especially in a large building where the underside of the roof isn't visible. 
Watch for signs of water damage like mold or water spots on the ceiling or a musty odor. And make sure to have your roof inspected by a professional on a regular basis.
2. Bubbles or Blisters
Bubbling or blistering happens when your roofing material is damaged or begins to break down and pockets of air or water get trapped between the underlayment and the membrane. This weakens your roof and can eventually cause leaks.
If you notice bubbling or blistering, have your roof inspected as soon as possible to assess the damage and determine if you need a roof replacement.
3. Increasing Energy Bills
When it's in good shape and properly installed, your roof helps regulate the indoor temperature of your building, keeping your energy costs stable. But as it begins to degrade, it becomes less efficient, and your HVAC system needs to work harder to keep your building comfortable.
When this happens, you may notice your energy bills begin to rise (more than can be explained by inflation or other causes of price increase). If your energy bills are getting out of hand, it could be time for a new roof.
4. Loose or Worn Roofing Materials
Loose roofing materials can be caused by severe weather, improper installation, and age, among other factors. When the elements of your roof begin to loosen or wear down, it can lead to water damage and leaks, harming the integrity of your building. 
For example:
Storms or strong winds

can cause uplifting of your roof's membrane. If the damage is extensive enough, you'll need a roof replacement. 

Loose or clogged gutters can keep water from draining properly, leading to pooling or leaks. 

And if the flashing is showing wear and tear, compromising its protective seal, water and debris can get in and cause deterioration. 
It's important to have all aspects of your commercial roof inspected on a regular basis to ensure it stays in the best condition to protect your building.
5. Age
Apart from these symptoms of a deteriorating roof, the other factor to consider is age. The average lifespan of a commercial roof is about 20 years. If your roof is getting to be around that age (or has surpassed it), it's probably time to start thinking about a replacement.
Trust Your Next Commercial Roofing Install to the Team at Hoyt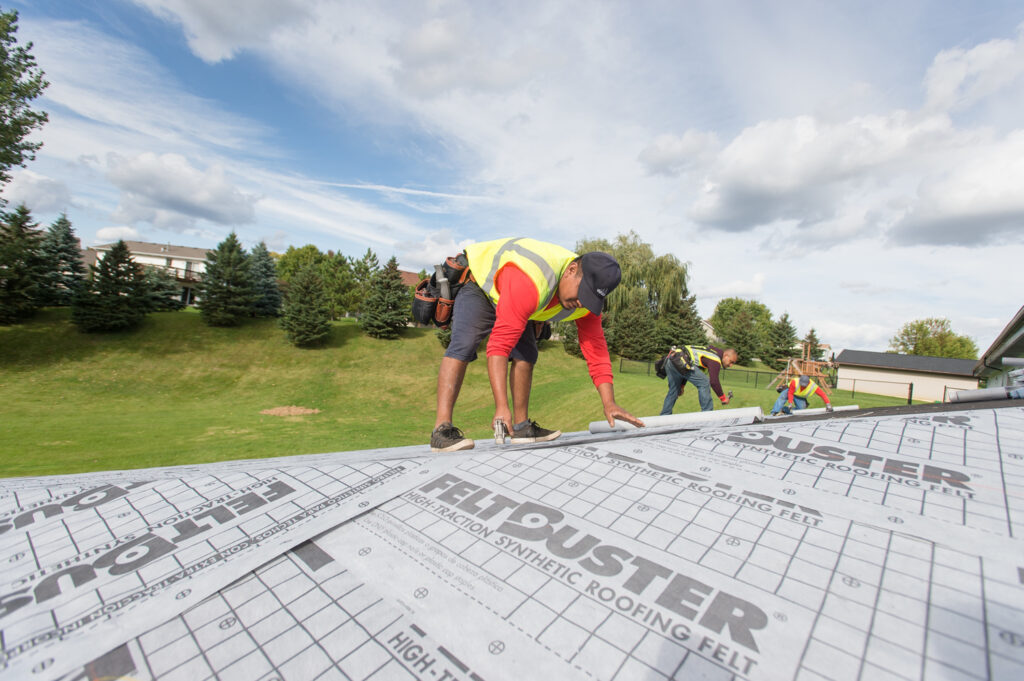 When it comes time for a roof replacement, trust your commercial roofing install to the expert team at Hoyt Exteriors. We'll put our expertise and attention to detail to work for you, to ensure that your new roof is installed properly and will protect your building—and your business—for years to come.
Contact us here or give us a call at 651-212-4965.