We recently completed a roof inspection and installation project for Century Ridge in Lakeville. This project involved: inspecting 26 buildings throughout the complex to examine the extent of hail damage incurred, determining the best course of action for roof repair or replacement, assisting with the insurance claim, and ultimately installing new roofing.
Hail Damage Inspection and Insurance Claim Assistance
The HOA board of Century Ridge in Lakeville asked the team at Hoyt Exteriors to inspect the roofs on 26 buildings of their townhome association that had suffered hail damage. Using autonomous drone inspections, we provided the HOA board with an extensive report documenting all of the damage.
Then, we helped the board with their insurance claim from start to finish. We worked with the association and their insurance company to make sure every damaged item was covered under the claim. This is a crucial step in the insurance claim process. It requires the expertise of a seasoned contractor who understands the process and how to work with the insurance carrier to ensure each item needed to complete the repairs is covered.
New Roof Installation and Warranty
After a settlement was reached with the insurance company, we installed new roofing, gutters, and downspouts. For this project, we used 2100 sqs of GAF Timberline HDZ shingles in mission brown.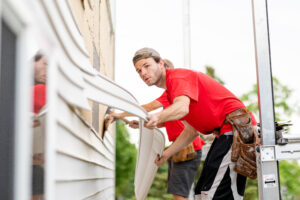 In addition, we removed the siding at roof-to-wall transitions in order to wrap ice-and-water shield up the sidewalls. This shield helped seal the area between the roof and the siding to prevent leaks from ice dams (an issue they have had previously). We also replaced the brick flashing and partition wall flashing throughout the property. The roof ventilation was improved as well.
Every new GAF roof is accompanied by a shingle and accessory limited warranty, but in this case the board approved upgrading to GAF's Golden Pledge warranty. This warranty extends coverage for a longer period of time and covers all labor and material for both installation and manufacturer defects.
The HOA Board's Testimonial
Doing excellent work is its own reward, but when our clients express their appreciation for that work, it's even better. This is the testimonial we received from Century Ridge's HOA board regarding our work: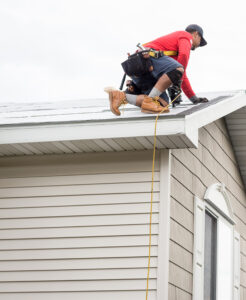 "We used Hoyt Exteriors to inspect the roofs of 26 buildings of our townhome HOA. When we had hail damage, Hoyt inspected and documented that damage. When it was time to work with our insurance adjustor, Hoyt represented the HOA throughout the long, drawn-out process. After reaching a settlement, it was a simple decision to move forward with Hoyt for the actual repair.
From start to finish, Levi and his team were friendly, professional, and extremely responsive. With 118 homeowners comprising the HOA, we (the board) anticipated some complaints or issues. Not one. The massive project was staged perfectly, communication was excellent, and cleanup was perfect. No regrets.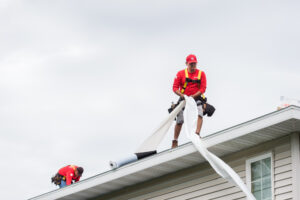 Could we have saved money going with someone else? Maybe, but I wouldn't have wanted to sacrifice the incredibly good service we received from the team nor the quality [of the work] by going with some fly-by-night roofing company. I highly recommend Levi and Hoyt Exteriors." 
— Holly Batton, President of Century Ridge Townhomes HOA
Trust Hoyt Exteriors for Your Roof Inspection and Installation Needs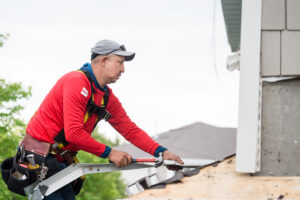 Hiring an experienced contractor to handle your roof inspection and installation is essential, especially when an insurance claim is involved. The expertise of a quality contractor is a priceless asset when working through the claim process.
At Hoyt Exteriors, our team of professionals bring top-notch workmanship, quality materials, and exceptional service to every job we do. Whatever your roofing needs are, we can help. Don't hesitate to contact us for your next project.