It's hard to believe it, but fall is just around the corner! That means it's time to prepare your home, yard, and gardens for the colder weather to come. Taking the time now to do a bit of fall home maintenance will help ensure your home stays warm, dry, and cozy all winter long.
Exterior Fall Home Maintenance
Clean Out Gutters
Clogged gutters can lead to pooling water and, eventually, roof leaks. They are also one of the major causes of ice dams in the winter. Once most of the leaves have fallen for the season, clean out gutters and downspouts and inspect them for damage. Replace old or damaged gutters with new ones that have built-in leaf guards.
Install Storm Windows
If you have older windows with detachable storm windows, you'll need to install your storm windows near the end of the fall season. First, remove window screens, clean them, and make any repairs before storing them in a dry area of the basement or garage for the winter. While you're at it, check windows for damage and repair or replace as needed. Then install your storm windows.
Check Foundation and Exterior Walls for Damage
Inspect your foundation and exterior walls, looking for cracks or gaps where water could get in, heat could escape, or critters like mice could enter. Caulk around areas where the masonry meets the siding, where pipes and wires enter the house, and around windows and door frames. Check for peeling or blistering paint or damage to siding as well, and schedule repairs as needed.
Inspect Roof for Damage and Schedule Repairs
Do a visual inspection of your roof from the ground, looking for missing or loose shingles. Fall is a great time to schedule a roof inspection with a professional as well, so you can have any damage taken care of before winter storms hit.
Fill Driveway Cracks
When water gets into cracks in your driveway, it freezes and expands, causing the cracks to expand with it. Clean out cracks and repair with driveway filler, then coat with a commercial sealer. Taking care of cracks now will make shoveling easier this winter as well.
Test Outdoor Lights and Replace Bulbs As Needed
As the days get shorter, we rely more and more on our outdoor lights. Take a moment now to test lights on your front porch, back deck, and on the garage, as well as your landscape lighting. Replace bulbs where needed.
Interior Fall Home Maintenance
Have HVAC Serviced
Have your HVAC serviced by a heating professional to make sure it's ready to go once temperatures drop. A routinely serviced HVAC system will run more efficiently and have fewer problems and a longer life. Make sure you are changing your air filter regularly as well (once a month during heating season) to keep your HVAC system running at its best.
Schedule a Chimney Cleaning
If you have a fireplace or wood stove, have your chimney inspected and cleaned by a licensed chimney sweep. As soot and creosote build up in your chimney over time, it greatly increases your risk of a chimney fire. If you use your fireplace often, a yearly cleaning and inspection is in order; if not, every two or three years is generally sufficient, but check with a chimney professional to be certain.
Change Batteries in Smoke and CO2 Detectors
Fall is a great time to make sure your smoke and CO2 detectors are in working order. You should check them once a year, and it's easiest to remember to do so if you combine it with other home maintenance tasks. Test your detectors to make sure they're working, and swap out the batteries for new ones. While you're at it, check the expiration date on your fire extinguisher(s) and replace them if needed.
Replace Worn Weatherstripping on Windows and Doors
According to the U.S. Department of Energy, heat loss through windows is responsible for 25-30 percent of heating energy use. Adding weatherstripping around the frames of  your doors and windows can cut energy costs and boost your home's warmth. Check windows and doors for drafts, add weatherstripping where needed, and replace any weatherstripping that has worn out. 
Lawn and Garden Fall Maintenance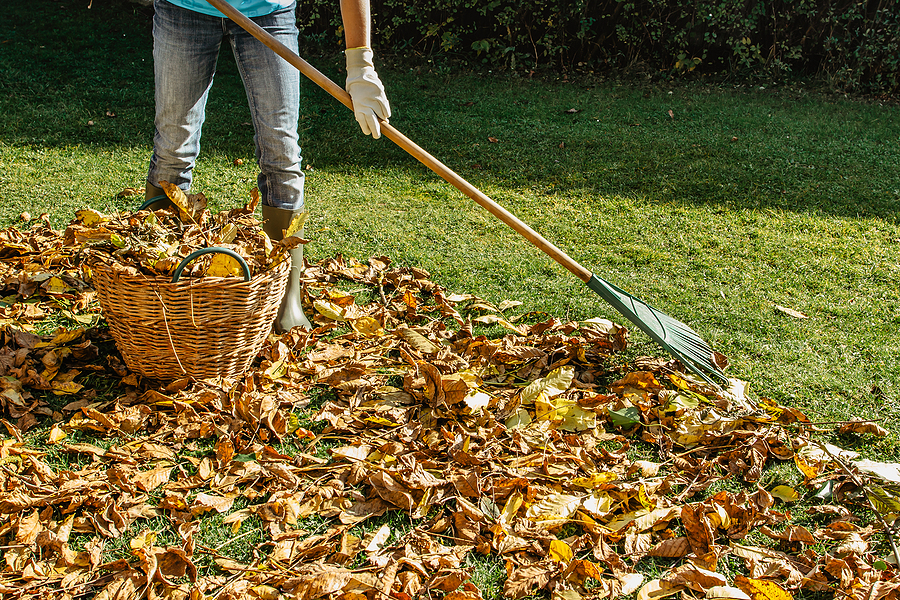 Raking, Fertilizing, Pruning, and Bulb Planting
Prepare your yard for winter by raking up leaves and applying a high-phosphorus fertilizer to your lawn. Tend to trees and shrubs by pruning dead branches and overgrowth. Fall is also the time to plant spring-blooming bulbs like tulips and daffodils.
Drain and Store Hoses and Shut Off Exterior Faucets
Drain and disconnect garden hoses from outside spigots and store them indoors for the winter. Protect pipes from freezing by turning off all outdoor water valves. If you have an irrigation system, now is the time to drain and winterize that as well.
Prepare Lawn Equipment for Storage
As fall comes to a close, prepare any gas-operated equipment (such as lawn mowers, leaf blowers, and chainsaws) for storage by draining them of fuel. If any of your equipment is in need of repair, do your future self a favor by taking care of repairs now. Then store in your garage or shed.
Get Snow Equipment Ready
Organize your snow-clearing gear, including shovels, roof rakes, and snow blowers. Fill your snow blower with fuel and test it to make sure it is in good running condition. If it's not running properly, service it now. The last thing you need is for your snowblower to break down in the middle of a blizzard!
Porch and Deck Fall Maintenance

Clean and Store Outdoor Furniture
Clean your porch and deck furniture, looking for damage and making repairs as needed. Store your outdoor furniture and grill in your garage or shed, or cover them with a waterproof furniture cover to protect them from ice and snow.
Check Stairs and Railings
Check handrails on your deck and porch to ensure that they will be able to support someone navigating slippery surfaces. Make sure all stairs are in good condition as well. 
Stain Your Deck
If your deck is looking worn, or it's been a while since you last stained it, make a plan to do so before winter. A fresh coat of stain will not only have your deck looking great, it will protect it from the elements and help prevent rot.
Want help with your fall home maintenance tasks? Contact us today to learn more about how Hoyt Exteriors can meet your siding, roofing and deck needs.