Our History
For many people, owning a business is a daunting responsibility. For me, it's part of the fabric of my life. My parents, Donn and Marty Hoyt, opened Diamond Equipment in Dickinson, North Dakota in 1964 and I have many great memories of helping out in the family business. It was second nature for me. My parents operated their business with a strong work ethic and never considered providing anything less than exceptional customer service. My brother, Gene, now runs the family business (renamed Diamond Trucking Equipment) and continues to operate under the same principles more than 50 years later.
Our Values
It is from my parents that I learned not only the value of hard, honest work but also the importance of building a business that I can be proud of – a business that is dependable, established, trustworthy, friendly, understanding and knowledgeable. Equipped with these principles and a desire to carry on the legacy of local family business – my wife Kammi and I, working side by side just like my parents, opened Hoyt Construction & Home Improvement in 2000. When Kammi created the Hoyt Construction logo she incorporated a diamond in the design to pay them tribute.
Kammi handled the bookwork out of our home office and I was in the field providing remodels, additions, door and window projects and various additional services within the community. Hoyt Construction & Home Improvement quickly developed a reputation as a trusted local business that maintains quality and integrity on every job. As a result, the demand for our services skyrocketed and we brought on numerous employees, forming the fantastic staff we have today. Interestingly, during the early years of our business, we received an increasing number of calls to the townhome scene. Unlike with Hoyt Construction, we learned that quality workmanship isn't commonplace and we ended up with countless roofing and siding repair jobs.
Introduction of Hoyt Exteriors
Similar to my experience, our son, Levi, grew up immersed in the family business. He later ended up taking a job for another contractor. It wasn't long, however, before he decided to return home to the quality of our family business. It's interesting how, simultaneously, our field experience was preparing us for the next phase of Hoyt Construction. When Levi suggested opening an exteriors division of the business we met his idea with a hearty "YES!" Providing exterior services for our customers felt like the next natural step. In 2012, we extended our quality workmanship and exceptional service into exterior work and launched Hoyt Exteriors.
To this day, Levi heads up the Hoyt Exteriors division of our business which specializes in roofing, siding, decking and windows. We proudly maintain our reputation as a Master Elite contracting company and our customers consistently rank their satisfaction at or near 100%.
But in our minds, there's so much more to it than that. We believe that family is everything and we function as a relationship-oriented team. If there's a problem we make it right. We value referral business from our satisfied customers. We navigate all our jobs and every client interaction with integrity, stand by our word, our work and our prices and always give back to our community. More than anything, we want to leave behind a legacy that encompasses these values for our children, grandchildren and all the generations to follow.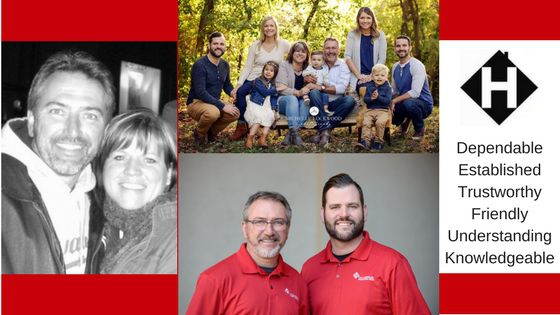 We call this The Hoyt Way.
We run our business like we live our lives because, for us, that's the only way.